We believe in great ideas
Arduous brainstorming and copious research constitutes the fountainhead, if not the backbone of every concept we generate, and
every idea we germinate for a brand. We love to partner with clients and deliver creative consulting, creative service, brand campaigns, brand identity among others.
Digital is not just about Digital Marketing and optimizing campaigns. We deliver brilliance across web/app development, social media
management, UI/UX services, content and Branded Content. Also, we have subject matter experts in Digital Strategy, Gamification, Customer Experience ensuring customers win, always! We have a slew of technology solutions such as chatbot, virtual reality, augmented reality, analytics, SMS and USSD based services to ensure your brands are digital ready.
It all begins with our people, our prized asset. They exude excellence and professionalism in their own domains.
Our on-site staff, coordinators and project managers are not only the most qualified candidates for the assignment, but are passionate professionals expertised in out-of-the-box Events & BTL solutions. And for their ability to deliver them at very short notice to boot. Quintessentially, what you see is what you get: bold and creative branding. Sophisticated marketing collateral. And a plan to bring it all together. Not to mention, with astonishing results!
We strive harder to find and present the truth in brands, products, culture and consumers. Our passion lies in finding the sweet spot,
shaped by the business challenge, the societal norms and culture, the brand's point of view & larger purpose, the belief of the product offering, and the human challenge.
We understand that every situation has unique challenges. So, it is important to get the hands dirty to explore where the brand is today, what is holding it back from the probable growth, and what shift the brand needs to navigate to be ready for tomorrow. Hence, we never bring pre-cooked or ready-made solutions fit-for-all for the brands. We try to make impact through useful strategy and unpretentious ideas.
The Right Tools For The Right Solution. Every Time.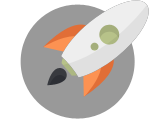 We're Here To Help Your Business Blast Off!
Through Creative Ideas, Innovation & Sheer Determination